What made the Portable Document Format (PDF) the most popular standard for documents in the world?
The answer? – mass customer demand combined with smart marketing decisions.
Users needed a format for viewing a file that would consistently look the exact same way in any application on a 5, 13 or 27-inch screen. In addition to wide compatibility, the PDF format was specifically designed to decrease the risk of unauthorized changes being made to the original file.
PDFs = convenience + security: But what about editing?
Users all over the world prefer to have their documents in PDF format for the sake of its enhanced security.
That's why they're ready to ignore the fact that the logic of a PDF structure makes editing PDFs completely impossible. Or wait…is it really impossible?
Great news – it's not. But you need to be careful.
If you try converting a PDF to DOC or PPT, the whole document structure can crash at any minute: pages can be lost and paragraphs completely ruined. If that happens, usually you have to go over the entire design and export a new PDF all over again.
Recognizing this problem, PDFfiller became among the first SaaS providers who responded to the challenge by making the structure of a PDF secure while simultaneously making the editing tools more user-friendly.
Try "True Editing" to make changes in your original PDF document
PDFfiller now allows you to customize and manage PDF documents and provides you with the Rewrite PDF feature.
The Rewrite PDF feature enables users to make changes in any of their original PDF documents.
This is what we call "True editing". True editing allows users to make changes in their original PDFs whereas more simple PDF editors limit access by adding an additional layout on top of the original file for the sake of faster edits.
What You Can Do Inside PDF Documents Online with REWRITE PDF

RECOGNIZE
fonts, colors, shapes, tables, graphics, dates, signatures

COPY
highlight any part of the PDF and copy it to any other part of your document or into a new file

DELETE
any element without messing up the surrounding of the document layout

MOVE
recognized objects in your document can be easily dragged anywhere in one click

ADD
any object (Excel table, JPEG or PNG file, the whole page or just a paragraph from another PDF, company branding, fillable fields to collect customer data)
How True Editing Changes the Way You Handle a Workflow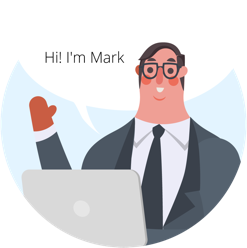 Meet Mark, junior assistant at Awesome Lawyers and Associates. He just received a draft of a contract from his boss with annotated remarks. His task for the next hour is to turn these notes into a contract draft 2.0. The second iteration in PDF will be sent to his boss's client and signed online, if everyone's happy with new conditions.
Mark's Usual Workflow:

Download the PDF

Convert it to Word

Open it in the editor

Make changes

Save as a new
PDF (create a second PDF)

Upload it back (attach to an email) once again

Get it Signed
Sure, Mark may use a popular PDF editing software, such as Adobe Acrobat, and skip having to convert the contract to DOCX format. But this kind of software is offered at a premium price, often more for brand name recognition than for anything else. In fact, all its features are available on the web at a much more comfortable pricing.
With Rewrite PDF Mark doesn't have to download and upload anything. He can open the PDF in the next tab in his browser, make all the edits, save them and send them back with no additional apps whatsoever. So, now his document routine looks like this:
Mark's New Workflow:

Open the PDF

Make changes

Save as a new PDF

Get it Signed
Security measures
All documents are processed and stored in compliance with international online security standards for digital documents and electronic signatures.
PDFfiller data is stored in Amazon S3 data centers. All Amazon S3 data centers have been assessed and approved by independent auditors as a cloud service provider with security impact levels 1-5 of the Department of Defense's Cloud Security Model.
PDFfiller encrypts user communications with the NSA developed SHA-256 encryption algorithm which is used as a security standard in the medical and banking industries to protect sensitive data.
With PDFfiller, you can choose between several types of user verifications, including two-factor authentication and logon monitoring. By having a logon monitoring system in place, you will be informed about any misuse of credentials, well before an actual data breach can occur.
The platform also complies with the eSign Act of 2000 and has a legally binding verification stamp for your e-signatures and an "Audit Trail" feature, which lets you keep track of all activity such as document changes, exports and imports.
For the protection and secure storage of medical documentation, PDFfiller stands alongside other American health care providers such as Blue Cross Blue Shield and Kaiser Permanente as 100% HIPAA compliant.
Now, with the security issue being taken care of, double, and even triple-checked, the Rewrite PDF ability comes to the stage. It eliminates all of the inconveniences and redundancies involved in paperwork.
With Rewrite PDF, our customers can finally edit original PDFs even on the go – no more downloads, Word duplicates or third-party applications required.
Save your time and money by managing PDF documents with PDFfiller.
Sign up for our newsletter
Get all the latest pdfFiller news directly to your email