PDF Editing Software for Business: 6 Consumer Trends to Watch in 2023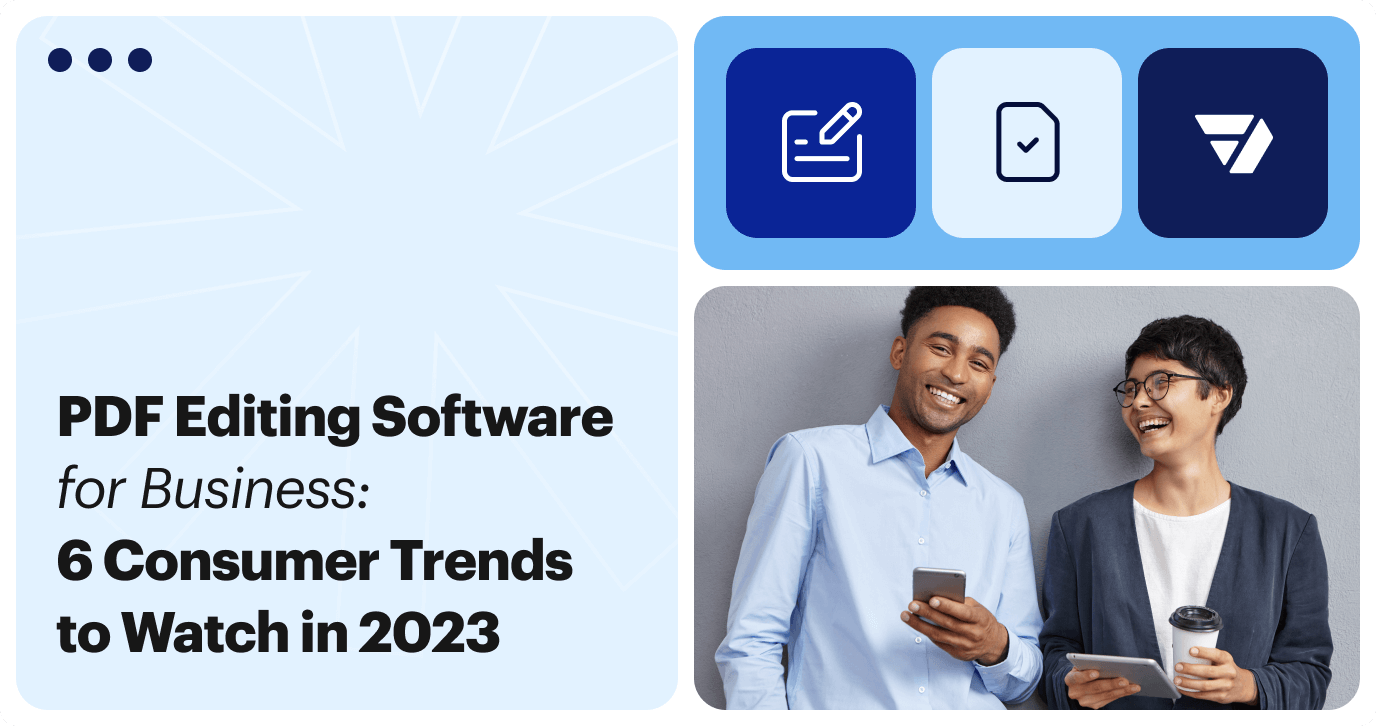 In 2023, businesses will continue to increase investments in document workflow automation and document management. According to the latest airSlate report, one-third of small businesses plan to increase investment in document workflow automation technologies to support their HR workflows this year. And that's for a good reason.
HR teams still spend five to twelve hours per week on manual paperwork. This situation isn't unique for HR only – other teams struggle with paper-based workflows and inefficiencies, too. So, it only makes sense to strive for a paperless office transition by modernizing processes and embracing automation wherever possible. 
As organizations are moving towards making their routine workflows more automated, we are constantly seeing new capabilities being added to PDF editing software for business. Previously used solely for PDF creation and editing, these digital tools now have added features like legally-binding eSignature, tax reporting, data collection, and, most importantly, automation.
So, what's the role of business PDF editing tools in 2023, and why should organizations invest in them? Let's find out.
What's the role of a
PDF editor for business
?
A PDF editor is a tool used to create, view, and edit documents in PDF format. Over time, however, these basic functionalities have been improved to meet the business requirements of many organizations that needed more sophisticated features, such as file conversion, split and merge, document templates, eSignature, and cloud storage.  
Today, the market is saturated by different PDF editing solutions for business with powerful capabilities – some of the most popular tools are Foxit PDF Editor, Nitro PDF, Adobe Acrobat, and pdfFiller for Enterprise. The emergence of these comprehensive PDF editing tools has improved team collaboration and helped support distributed workforces during and post-pandemic. 
By adopting PDF editors, organizations are moving towards eliminating manual paperwork and transitioning to a paperless office. Studying how employees inside their organization use PDF editing software is crucial for business leaders to understand which functionalities to opt for when choosing the best solution. 
Let's explore the key consumer trends dominating the niche of PDF editing software this year.
Ready to try
pdfFiller

for your business?
Select your plan or contact us for more information.
6 Consumer trends for using
PDF editing software
pdfFiller recently surveyed 1,000+ respondents aged between 18-65+, and the results reveal the key consumer trends when it comes to PDF tools.
1. Most consumers use PDF editors for their professional needs
73.1% of respondents use document management and PDF editing solutions like pdfFiller for their professional needs. About 27% of respondents use PDF editors for their personal needs. 
People are using editors to:
– Fill out legal, banking, and financial documents in a time-sensitive manner
– Complete and file tax returns to the IRS
– Conduct operations with real estate documents
– Reduce the amount of physical paperwork in the office
2. More than half of consumers are unaware of the PDF alternatives on the market
56.5% of respondents find it challenging to choose a PDF editing software alternative to pdfFiller for Business. Some of the most popular software options on the list are Adobe, DocuSign, Microsoft Office, and Google Docs. Each tool is geared to meet different user requirements, often resulting in customer frustration due to high pricing or lack of specific features.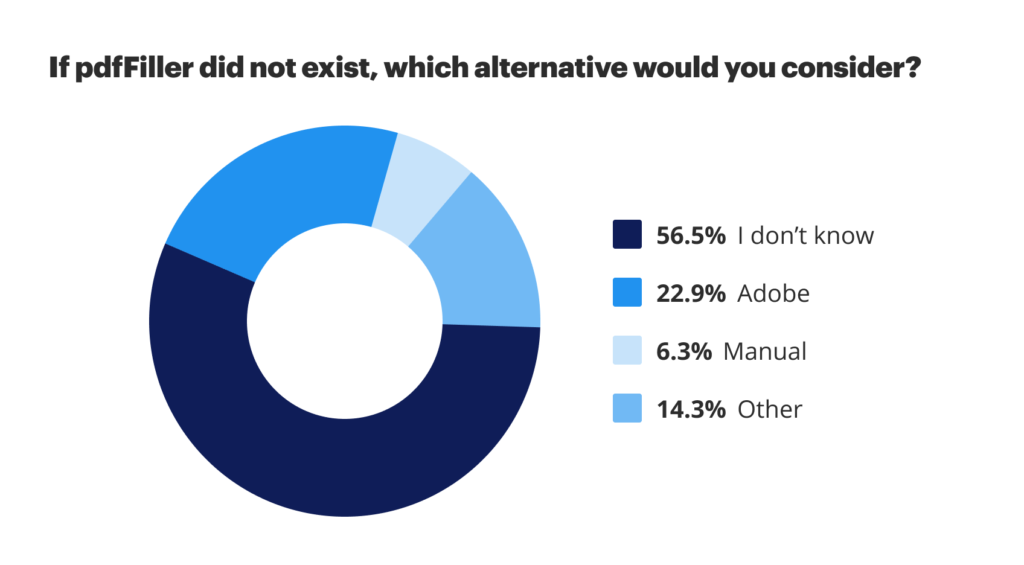 For instance, DocuSign is an enterprise software with a powerful contract lifecycle management component, which makes it quite expensive for small and medium businesses, not to mention individual users. On the other hand, Google Docs can be used as a part of Google Workplace for businesses, but eSignature, form filling, and other capabilities are only available as add-ons. 

With that said, most users choose pdfFiller for Business because it is an affordable, accessible, and comprehensive solution that meets their specific document management requirements.
3. The ease of use/user-friendliness is the biggest factor impacting the choice of PDF editing software
35% of consumers choose pdfFiller for Business over competitors because of its ease of use/user-friendliness. pdfFiller has proven to be "a Swiss army knife" tool that can do PDF editing and electronic contract signing in one easy-to-use package, according to user reviews.
Other factors that impact the choice of a PDF editing tool for business are lack of limits on documents and document storage, great value for money, and security and reliability.
4. PDF editing and form completion are the two most popular professional use cases
73% of respondents use pdfFiller for Business to edit PDFs for work, while 60% name form completion as their second choice.  
Surprisingly enough, PDF and form creation, signature collection, data collection and storage, and tax reporting to the IRS are less in-demand use cases for businesses.
5. The paperless office transition goes slower than expected – businesses are still ridden with manual paperwork and inefficiencies
According to a 2022 airSlate survey, printers are still a large part of the working environment – almost 60% of respondents said they had to purchase a printer during the pandemic either out-of-pocket or through their employer. 
This seems to be a generational thing, though – Millennials (53%) turned out to be more paper positive than Gen Z-ers (35%). However, people's mindsets are gradually shifting towards going paperless. 
As of 2023, when asked about the specific problem that brought business users to pdfFiller's PDF editing software, 53% of respondents cited the need to eliminate physical paperwork. 37% of respondents strive to increase efficiency with the help of PDF tools. 
It is worth mentioning that 34% of respondents are looking for a less expensive and more functional alternative to DocuSign and Adobe, so they opt for pdfFiller for Business.
6. Some industries may be reluctant to use PDF editing software at the organizational level, so most use cases come from implementation by individual employees
According to surveyed data, the Insurance industry uses pdfFiller for Business at the organizational level more than other industries. The Education industry has more users at the department level, while Legal & Law and Real Estate have more individual employees implementing PDF editing software to address their work tasks.
In conclusion
In 2023, we anticipate an increase in investment in document workflow automation, which will positively impact the adoption of comprehensive, all-in-one PDF editing software. Although the paperless office transition doesn't happen fast enough, digitization continues as generations of the workplace change. Organizational-level changes don't happen quickly either, but individual users are becoming the proponents – and in some cases, evangelists – for implementing new PDF software to improve work efficiency.
pdfFiller

offers solutions tailored to your organization's needs!
Choose the right plan for your business.
Sign up for our newsletter
Get all the latest pdfFiller news directly to your email